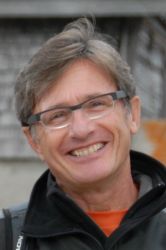 PEAK Development Manager and Consulting partner at Thesame
Tuesday, October 12th - 2.30 - 3.30pm: SEMINAR #3
Topic: Collaborative Innovation: A New Way of Thinking.
PRESENTATION OVERVIEW:
There's a huge and untapped resource of innovation and economic efficiency available to the outdoor industry.
Usually a company's main focus is to maximise its returns. Their internal resources will be geared in this direction, with operations externally managed by a global international network of suppliers, subcontractors and vendors. The model is all about streamline the efficiency of the business, with each separate unit trying to improve its own internal efficiency.
But what efforts are being made to make sure there is efficiency in external relationships?
Companies that can instil a climate of confidence with suppliers in each step of the relationship can reap huge economic benefits. It isn't easy to achieve, but Pierre's presentation will focus on ways that businesses can develop this new approach to innovation.
RESUME:
Pierre Jarniat is not an academic or a consultant expert, but a practitioner. Most of his career has been spent purchasing and sourcing management, especially in the outdoor trade (at companies such as Camping-Gaz, and Millet). For the last 15 years, Pierre has worked as Purchasing Director of Salomon, during which he managed the development of a global international sourcing network in Eastern Europe (Romania) and Asia (China).
At each of these companies, Pierre was involved in every aspect of innovation, from purchasing and sourcing, to supply chain management, new product development and human resources management. This varied experience gave Pierre the foundation to develop new concepts in innovation.
At the age of 59, Pierre headed in a new professional direction in order to share and pass on his vision of a new way of purchasing by joining THESAME, a French Association that focuses on management innovations. Pierre also founded and is the Development Manager of PEAK (Purchasing European Alliance for Knowledge), a platform of studies and research into purchasing, oriented towards customer/supplier collaborative approaches in industrial networks. PEAK combines 13 academic partners with 20 international companies (including Salomon, Danone, Sanofi-Pasteur, Legrand, Somfy, Bio-Mérieux and Tefal), all working together to develop a 'new school' of purchasing.
PUBLIC CONTACT DETAILS FOR FORUM COMMUNICATION:
THESAME
20, avenue du Parmelan
74 000 ANNECY – France
Cette adresse e-mail est protégée contre les robots des spammeurs, vous devez activer Javascript pour la voir.
+ 33 (0)6 45 68 30 55

BIBLOGRAPHY:
Conference Presentations
HEC Genève / STRATEGIC PURCHASING Annual Conference (2010 June) « Les ressources insoupçonnées des démarches collaboratives clients/fournisseurs»
Ecole Polytechnique Fédérale de Lausanne / Purchasing Conference (2010 May) « Comment améliorer les relations clients/fournisseurs dans les Entreprises en réseau »
CROP & Co / Annual Conference (2010 March) « Open Innovation and Co design, a new way for efficiency?
MACS 2009 / Annual meeting Polytech /CNRS (2009 Oct) « Co-design tools, PRAXIS project »
IMRI / Ecole des Mines/ Polytechnique / Rencontres Annuelles de CARGESE (2008 May) « Stratégie d'innovation et intégration des fournisseurs : le cas SALOMON»
Awards
Purchasing National Awards "Trophées DECISION Achats" (2009 April) « Trophée national pour JARNIAT Conseil et THESAME dans la catégorie Innovation Achats"